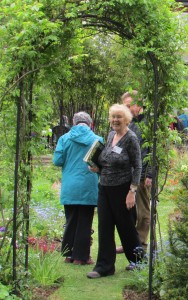 The gardens of Arnos Park Lodge were open at the weekend as a fundraiser for the Broomfield Park Conservatory.
The creation of Elizabeth Dobbie, the gardens were open earlier than usual this year to give visitors a chance to see it in spring. Elizabeth describes her work as naturalistic and unfussy. It certainly is beautiful, and there was a great turnout despite the weather.
If you missed the gardens, there are more chances on the way to support the work of the conservatory, including a plant swap on Sunday 26 May. The conservatory is open from 2.30 to 4.30 on Wednesdays and Sundays.