One of the most frequent enquiries we get on this website and in search engine referrals is about Truro House. Not everyone knows its name. Sometimes its the 'old house on the corner' or 'old house opposite the Town Hall'. It seems like Truro house has always invited curiosity.
Friend of this website Betty Wright lived in the Town Hall from 1926 to the 1950s and has kindly sent us this press cutting from 1974. Back then Truro House, given that it was built around 1850 or 60, was not much older, relatively speaking, than many of our own houses today – just over 100 years. Even then it seems to have been a bit of a mystery.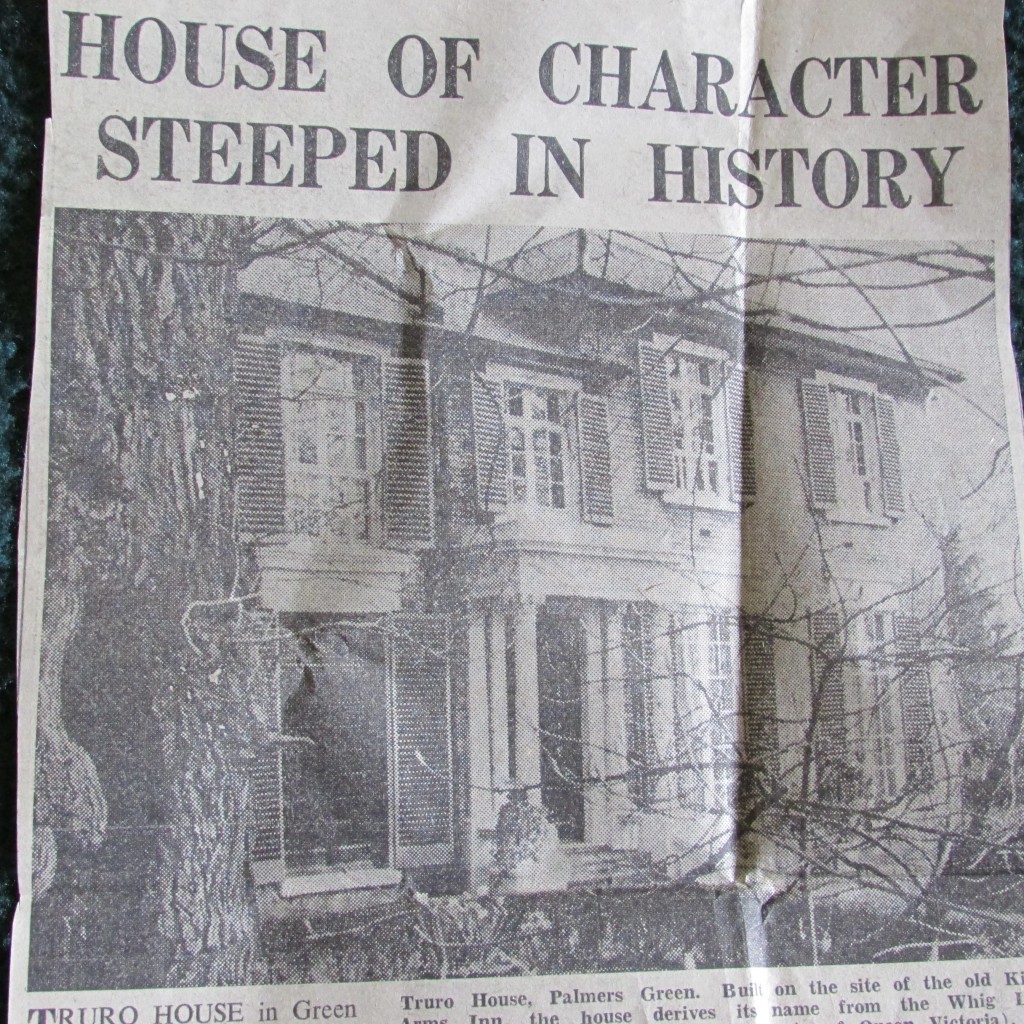 We seem to know the following. It stands on  the site of the Kings Arms pub – Oakthorpe Lane was once Kings Arms Lane.
Peter Brown of the Broomfield Museum Trust also tells us in his fascinating leaflet on Truro House that the land was once owned by Thomas Wilde (1782-1858) first Baron Truro who  lived at Bowes Manor and was Lord Chancellor from 1850-1852. The estate was then purchased by Alderman Thomas, and there was a Truro Cottage on the site in 1867's ordnance survey site. However, neither Wilde nor Sidney appear to have lived there and it seems like the house may have been rebuilt or remodeled around 1890 when it was occupied by Frederick Colliver, a stock jobber, and his family.
From 1898 it was owned by the Davis family: Miss Charlotte Davis lived there from 1936 to her death in 1995 with her French housekeeper, Mlle Florence Zanotti. Peter tells us that while she was there, she allowed the Southgate Civic Trust Trees Group to inject the eleven elms which stood in the garden to try and save them from Dutch Elm disease – unfortunately without success. She also sold part of the land for the building of Honeysuckle House.
I have heard people say that Miss Davis liked to keep herself to herself, but I would love to hear from people who knew her. Graham Dalling used to tell the story of how, when the Enfield Local Studies Team were based in Palmers Green Library, he and David Pam went knocking on the door, only to be sent away with a flea in their ear.
The fate and more recent goings on in the house remain a bit of a mystery. Is it occupied? Currently there seems to be a small enclosure and the vegetation seems a bit more under control than usual, but perhaps that's just the recent bad weather.
Perhaps most interesting is the call from writer of the 1974 article, one 'Fuimus' to consider the status of the house in the borough, a call which could have been made yesterday and has so far been unheeded. It and the Town Hall are the only buildings with open space fronting the New River, which celebrates its 400th anniversary this year, but which we hardly seem to make anything of in Palmers Green.
Truro House is a beautiful and sizeable  but not large building, with mature trees which have a tree preservation order. The gardens could be a wonderful public space, and the building may have potential as a community meeting place. I am just saying.