What would you do if you were suddenly plunged into financial ruin?
There can be few of us who havent stopped to consider that thought over the last couple of years, and particularly those who have been affected by the recent problems in Cyprus. Its also theme of a new film, due to be screened at Cineworld later this week.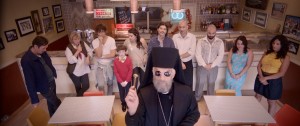 Marcus Markou's Papadopoulos & Sons tells the story of a self-made Greek immigrant millionaire who reluctantly re-unites with his estranged freewheeling brother to re-open the abandoned fish and chip shop they shared in their youth. It's strictly 'feel-good', the premise, 'only when you lose everything do you find it all'.
Markou has self financed and self distributed the film, which is being shown in selected cinemas for just one week.  After that, unless it's very successful, you may have lost your chance.
Industry insiders have described the strategy as mad, but you can help provide them wrong, says Markou: the secret is guerilla marketing, Greek style.
For every Greek in the UK – just the title Papadopoulos & Sons – makes this film an event. I'm not saying that this film only appeals to Greek immigrants and their handsome offspring. Far from it. This is a fairy tale with universal family values and a feel good factor. But whilst the film can and does appeal to non-Greeks for the purpose of my cinema release I am exclusively targeting their joy. It's our film. It's about us. It's our big moment on the big screen – with a lovely story, some wonderful music, some excellent performances. It's our event.

The call has gone out to all the Greeks I know. And I have asked them to forward the rallying call to all the Greeks they know. The marketing strategy is simple. Greeks know Greeks. We will be targeting Greek churches and community halls, Greek businesses, Greek Facebook groups and anything Greek.
To book tickets for the Enfield showing at Cineworld this Friday 5 April – including a pre  screening Q&A with Markou about the film – click here http://www.cineworld.co.uk/whatson/6158?cinema=22&date=all. And tell all your friends.
[youtube]http://www.youtube.com/watch?v=83J2uhKjOxE[/youtube]