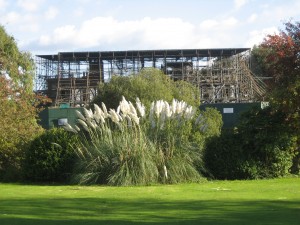 The rejection in January of the Heritage Lottery Fund bid for Broomfield House was a temporary setback, not game over, say the groups behind the proposals.
Further discussions with HLF have revealed that the application may in fact have been a near miss – it was supported by London HLF officers in Round 1 of the process, and only rejected at the national stage due to the number of other applications and availability of funds.
The bid is understood to have scored highly on heritage and community and the close relationship with Enfield Council but, in the form submitted in October, was a higher risk than HLF was willing to accept. Friends of Broomfield Park and the Broomfield House Trust are now looking at options for a way forward. At update will be given at the next Open Meeting of the Friends of Broomfield Park on 8 May -(7.30 at the Ruth Winston Centre).
'Seen against the long history of attempts to at regeneration [the setback is] not a fatal one,' said Roger Blows of the Trust and Laki Marangos of the Friends in a joint letter to the Enfield Advertiser last week. "The latest proposal is the most encouraging to date." The Broomfield House working group has called on Enfield Council  to remain steadfast in its commitment to the future of the house.
One thing is for certain, if there is to be hope for Broomfield, a huge fund raising effort will be needed, and that means support from the Palmers Green community.
For the latest information, visit http://www.broomfieldhouse.org/index.html