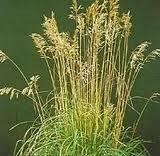 Broomfield House, Broomfield Park…but why "Broomfield"?
The origins of the name Broomfield was one of the subjects tackled by Peter Brown of Broomfield Museum Trust as part of his fascinating talk  at Trinity at Bowes last week.
The wife of Sir John Spencer, who owned Broomfield from 1599 to 1610 was born Alice Bromfield, but that doesn't seem to have been it, he mused.
I mentioned Bromefield as a surname, but how do we explain it in Palmers Green? The answer is, I can't!

There may have been a family called Broomfield in the area but we don't know.

In a map from 1600 there are 9 Broomfields in the parish of Edmonton.

Is it to do with brome grass, which grows in woodlands, and has seed heads which bend over at the top? Horses eat brome grass but cows don't touch it. Broomfield may have been land used for grazing horses.

But it also might be broom, of which there are 70 varieties.

It grows near the round pond. Some years ago, the Friends of Broomfield Park planted six broom bushes with the permission of Enfield Council.

If you sit on the Centenary Seat, you can enjoy the sun and, in the season, the glorious display of broom in front of you.

But I doubt if one person in a thousand thinks "Hmm … Broom … Broomfield!!!"

But that's the connection.