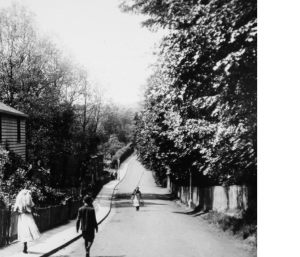 A fascinating collection of historic photos of Winchmore Hill collected together as part this summer's N21 festival is now available in book form.
"Journey through Winchmore Hill, Past & Present", gives a unique pictorial comparison between old and present day images and is accompanied by descriptive text extracts from Henrietta Cresswell's book, "Memories of a Lost Village", the full text of which is included. Its also packed full of little known facts about the area – Did you know, for example, that Winchmore Hill could have been a fashionable health spa or that smuggled goods were once sold on The Green?
The hardback book will have a limited edition of 200, and contains 160 full colour pages, with foil blocking on the cover, printed endpapers and two bookmark ribbons.
The book receives its official launch on Tuesday 4 December at the Queens Head, starting from 7 – all are welcome. You can also get your copy at Saturday 8 December's St Nicholas Fair on Winchmore Hill Green, about which more soon, or order online at www.N21.net/pastandpresent info@N21.net.
Better get yours quickly – before they sell out.