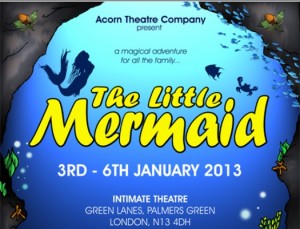 24 November Christmas Bazaar at the Ruth Winston Centre from 10 am
23-25 November Hatfield House Christmas Frost Fair
1 December St Monica's Christmas Fair  – from 10 til 4. Meet Father Christmas!
2 December Hazelwood Schools Christmas Fair – the next stop for Father Christmas on his tour of Palmers Green, and a roller disco
1&2 December Alexandra Palace Christmas Fair – Two days of Christmas stuff. I doubt that Father Christmas can also be here, as he has a diary clash
8 December St Nicholas Fair on Winchmore Hill Green – from 2 til 7. Stalls, music, children's activities, merriment, horses, reindeer, snow and St Nicholas.
now til 11 December Cards for Good causes pop up short at the United Reformed Church, Burford Gardens. This is the 19th year for the annual pop up offering shoppers the chance to buy Christmas cards from more than 25 national and local charities, as well as a variety of Christmas goods. The shop, staffed by local volunteers, is open from 10 am – 4 pm Monday to Saturday until Tuesday 11 December
3-6 January Christmas panto at the Intimate Theatre – the Little Mermaid. Call 0208 807 1810 to book
What have we missed from our events listing? Email us!