A parade of attentive local residents wound their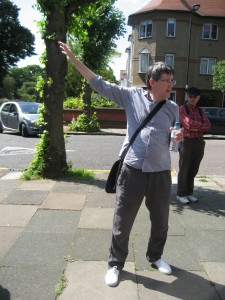 way through the streets of Palmers Green and Broomfield Park last Sunday, in the company of Jaywalks tourguide Joe Studman.
Joe regaled his audience (including our two competition winners Patricia and Suzie) with high living tales of Billy Biscuit of Cullands Grove (the alleged coiner of the phrase 'readin, riting and rithmatic'), John Donnithorne Taylor's one man green belt policy, and Palmers Green's links with the Spencer family of Cannonbury Tower including a touching story of kindness from Elizabeth 1.  As is traditional for any gathering of Palmers Green residents, we lamented the sorry recent fate of Broomfield House, and the similar slow decay of Truro House.
If you have got the walking bug, there are more opportunities to pound the local streets in August.
On Sunday 19 August, Joe sets out for Southgate to lead a walking tour entitled Welds, Walkers and Watering Holes. The walk starts at 2.30 at Southgate Underground station. Further information from Joe at www.jaywalks.co.uk
On 26 August, you can learn more about Bizarre Bowes Park, on a walking tour by Peter Berthoud of the highly recommended Discovering London website. Peter will be leading a small, intrepid group to encounter Ovi the dinosaur, an odd collection of eagles, and to see London's most interesting underpants, as well as taking in a local hostelry. The walk starts at 11 from Bounds Green tube and lasts about three hours. You can book on Peter's website  and also find out more about other walks he runs in London.