Well, not Alf Garnett of course, but actor Warren Mitchell.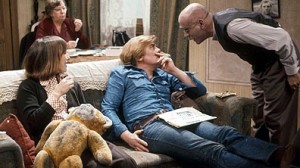 Born in Stoke Newington in 1926 as Warren Misell, Mitchell was nevertheless schooled in Palmers Green. He was a pupil at Southgate County School in Fox Lane from 1937 to 1943, and (though I have not yet been able to verify this for sure), it appears that he may also have attended primary school in Bowes Park. Quite a long daily journey – had his family moved into the area?
Mitchell was interested in acting from an early age, attending Gladys Gordon's Academy of Dramatic Arts in Walthamstow from the age of 7. He met Richard Burton while studying chemistry at Oxford, who encouraged him further in his acting ambitions. His premature baldness meant that Mitchell could play a wide age range of characters – he first played Alf Garnett in 1965 in a one off play aged just 39.
The BFI website Screen Online explains how Mitchell and writer Johnny Speight's intention was to ridicule Garnett – left leaning Mitchell's political views could not be more different to Alf's. However, the quality of writing meant that Garnett became a well formed character, and was seen by some as a working class hero, something which caused Mitchell and Speight some soul searching.
Though he is most famous for Alf Garnett, Mitchell has had a very varied and successful acting career, winning two Laurence Olivier awards for his roles in plays by Arthur Miller.
Warren Mitchell in action: Jesus was English, according to Alf Garnet ("Mary – you cant get a more English name than that, can yer?")
see also: http://en.wikipedia.org/wiki/Alf_Garnett