It's strange to think that just over 100 years ago Palmers Green amounted to not much more than a pub, a post office, some big houses and a few modest cottages. On Sunday 22 July Joe Studman of www.jaywalks.co.uk  will be leading a walk around our streets to search for signs of the lost hamlet of Palmers Green and trace its development from village to Edwardian suburb.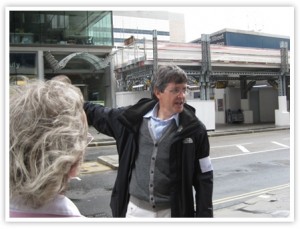 "We'll  be trying to peel off the layers to reveal Palmers Green's growth during the 20th century." says Joe.
The walk will be paying special attention to 'reading, ritin' and rithmatic'" – a concept which may have been born here in Palmers Green, thanks to the charismatic high living Alderman of London, Sir William Curtis MP who lived at Cullands Grove (now the Lakes Estate).
Joe –  from Winchmore Hill but born within the sound of Bow Bells – is a qualified City of London Guide and also guides for The National Trust and English Heritage. His tours are intended to entertain as well as inform, as those who came on his (sell out) walks last week as part of the N21 Festival will attest.
The walk on the 22nd will begin at Palmers Green station at 2.30pm. Tickets are £3 or £2 for concessions and can be purchased from Joe direct.
Joe will also be leading a walk around Southgate on Sunday 19 August and repeating his recent Winchmore Hill walks in the coming weeks for those who weren't able to come along in June. He also leads a range of walks in the City of London. For more information, visit www.jaywalks.co.uk