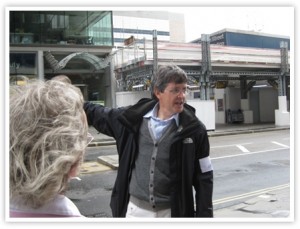 Local tour guide and storyteller Joe Studman will be leading the latest in his walking tours of the area on Sunday 19 August.  Entitled Welds, Walkers and Watering Holes, the walk starts at 2.30 at Southgate Underground station – further information from Joe at www.jaywalks.co.uk.
Joe has kindly given Palmers Green Jewel in the North two tickets to give away. To enter, all you need to do is tell me where the weather vane which once stood on the Weld Chapel is now located. As usual, the answer is somewhere on this website.
Answers to palmersgreenn13@btinternet.comby 12 noon Friday 10 August please. The winners will be the first two correct answers randomly picked from the proverbial hat.