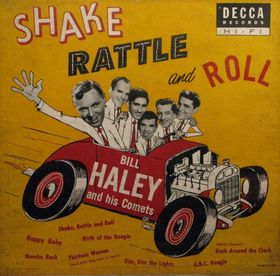 Sixty years ago next year, in December 1954, rock and roll hit the UK charts for the first time. By Bill Haley and the Comets, Shake, Rattle and Roll was a cover of Big Joe Turner's song, entering the Christmas charts to nestle alongside postwar jazz ballads by the likes of Frank Sinatra and the ragtime of Winifred Attwell's Lets Have a Party (that year's Christmas no 1).
Its successor Rock Around The Clock became one of the biggest selling single of the 1950s  – and the film Blackboard Jungle in which it was featured became notorious despite cuts from the censors. In Elephant and Castle 'teddy boys' danced in the aisles and ripped up seats, a spectacle that would soon be repeated in cinemas all over the country, to the alarm of politicians and the media. Music, and what it meant to be a teenager in the UK, would never be the same again. Or, at least that's what we are told.
We are looking for people in the area who remember the arrival of rock and roll for a new oral history project launching this summer, culminating in an exhibition, publication or website for the 60th anniversary next year.
Titled Rock and Roll Enfield, the project will be focusing in particular on what it was like to live in Palmers Green, Southgate, Winchmore Hill and Enfield in those days.
And now we need  your help!
Do you remember the first days of rock and roll? How did it impact on you and your family? What did you wear and where did you go out to meet your friends? If you have memories to share, or would be interested in being interviewed, or have photographs or memorabilia from that era that you would be glad to share, we'd love to hear from you. Please email us at  rocknrollmemories@btopenworld.com
The project is being run by Joe Studman of Jaywalks and Sue Beard of Palmers Green Jewel in the North, with the kind support of Southgate District Civic Trust.