A competition run by the Mayor of London, the Garden Museum and the Landscape Institute has generated some new ideas about a possible future for the New River.
The New River runs from Amwell in Hertfordshire right down into Stoke Newington, with a further now non flowing sections running all the way to its original destination at Saddlers Wells. Though easily one of the oldest remnants of Palmers Green's past, the New River (neither new, nor a river) is often forgotten as it meanders past hundreds of back garden fences and snakes along its ancient – though oft amended – path.
London Landscape architecture practice Place Design and Planning's idea was to  reveal, re-connect and diversify the historic waterway as a way of drawing communities along the route together, stimulating business in the area and managing water in a sustainable way.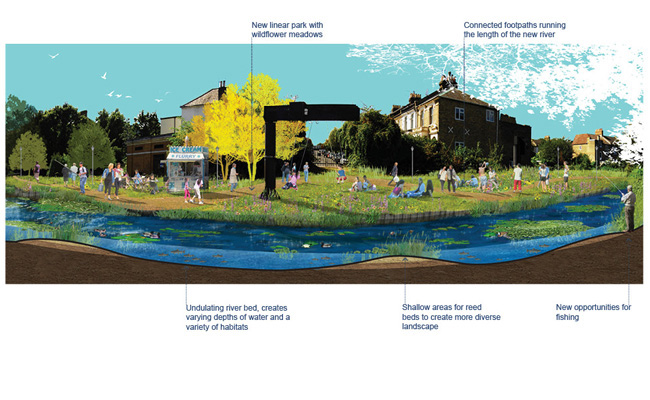 The competition was inspired by New York's High Line, the aim to generate new ideas for bringing hidden, forgotten and abandoned places into public use. While the ideas may perhaps never be implemented, the aim is to stimulate new thinking.
The winner from Fletcher Priest | Pop Down was to create an urban mushroom garden lit by sculptural glass-fibre mushrooms in the old 'Mail Rail' tunnels beneath Oxford Street.
Other entries closer to home included an idea from Andres Briones for a Lea Valley Rain farm to store run-off and rainwater to serve the local neighbourhood. Our recent summer suggests that that idea could be very successful.
To view the entries, visit http://www.landscapeinstitute.org/events/competitions/highline.php