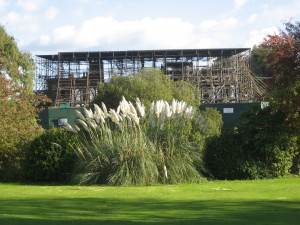 Missed, treasured, ruined, beyond hope, still rescuable…opinions on Broomfield House have long been mixed but wistful. A successful of fires brought it to its present state and since then there have been several attempts to revive its fortunes, lead by the hardworking Broomfield House Trust.
Following work by Enfield Council, the Trust, the Friends of Broomfield Park, Historic England and the Heritage Lottery Fund, a consultation is beginning this month to look at future options for house and stable block based on an initial a report produced by independent architects Donald Insall.
The report identifies options for a part restoration, part new build for those parts that are beyond repair, and potential for the enhancement of the landscape setting, possibly funded by a more commercial approach to the stable block.
Enfield Council will have a stall at this weekend's Palmers Green festival where you'll be able to pick up hard copies of the questionnaire and essential background material  plus information on potential next steps. The Broomfield House Trust will also be at the festival to give their views on the best way forward and are urging as many people as possible to participate in the consultation so that local views can be taken into account.
If you cant get along to the festival, there's further information here http://www.enfield.gov.uk/broomfield_consultation