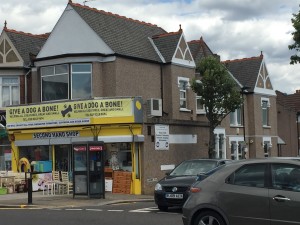 On 8th May 1905 a tiny new school was opened Palmers Green at no 1 Osbourne Road, its founder a passionate 29 year old from Tottenham who had decided from the age of just three that it would be her vocation to be a teacher.
Alice Nellie Hum was a woman with a gift. According to Frances Spalding:
…[she] enjoyed huge respect. She was a small, red-cheeked woman invariably dressed in brown: velvet in winter, silk and cotton in the summer. She was bright, cheerful, energetic and a silent martyr to ill health. Though small in stature and nicknamed 'Cow's Eyes' by her pupils, she exerted complete authority and was capable of making the largest girl feel very small.
We might not know so much about Miss Hum of course had she not had two famous pupils – in fact, arguably the most famous people that Palmers Green ever produced – the writer Stevie Smith, who began attending the school in 1911 when she was 9, and her contemporary the actress Flora Robson, who was 13 when she began there in 1915.
And had she not taught both of them English literature from her front room at 1 Osbourne Road. Said Robson of the lessons, where the girls sat on the floor
Miss Hum had a great gift for imparting her love of literature, it was not just a lesson. My hands  shook with joy when I picked up the Golden Treasury of Verse, my Tennyson, and the works of William Shakespeare…it was not just a swallowing of facts and figures; like a pebble dropped into still waters, the circles widened till we began to love what we studied, and went on with our studies after we left school.
Miss Hum was also a woman of principle – when war broke out, she read anti-war poems to her pupils to counteract the jingoistic atmosphere that was prevailing in the area. She was a very wise and original lady said Stevie Smith 'because when the war came…she said that not absolutely every German was 'a fiend incarnate' as was the general opinion in our suburb'.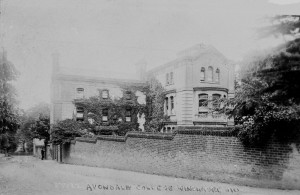 The school had six pupils on its opening day, but expanded so quickly that it had spilled over into the house on the same corner but fronting Green Lanes 1907, and then into a third building. By 1912 when Miss Hum went into partnership with her cousin Elsie Roberts and friend Esther Tempest, its reputation had apparently grown to the point where families were moving to Palmers Green to be near the school.  By 1918 the school had grown to 300 pupils and had moved to Avondale Hall, in Hoppers Road.
Sadly, Palmers legendary teacher did not have a long life. Hum had become a Quaker in 1916, her faith inspiring the school's motto By love serve one another. She died aged just 53, and is buried at the Quaker Meeting House in Winchmore Hill. Her legacy continues: Palmers Green High School in Hoppers Road.
(Quotes are taken from from Frances Spalding's Stevie Smith:  A biography) 
This article has been prepared as part of the process to nominate buildings and landmarks to Enfield's updated local list. For more information see http://www.palmersgreenn13.com/2015/09/11/every-street-in-palmers-green/. And if you have any suggestions for buildings which aren't listed but should be included in the local list, please get in touch. But do get in touch soon, as submissions need to be in by the second weeks in November.