Deadman's bridge and the traction engine sign, Green Lanes
If you walk down Green Lanes in the direction of the north circular on the west side of the road you will eventually come to Deadman's bridge. This stretch of road was once known as Deadman's Hill, although no one seems to know quite why (unless you credit the fanciful story of Gabriel Haynes and his tragic accident which appears elsewhere on this site).
The name appears to be ancient. A History of the County of Middlesex vol 5 (www/british-history.ac.uk) states that in the sixteenth century Green Lanes was a collection of linked roads, one of them being Deadman's Hill in Palmers Green. In 1789 they find a reference to "Bowes Farm Bridge, presumably Deadman's bridge in Green Lanes" where "a single arch, was built…by the road trustees and repaired in 1822 by the county". It is reasonable to assume that the 1789 bridge replaced an earlier structure, (given that Pymmes Brook always needed to be traversed by those heading north out of London). Presumably too the present bridge is in part or wholly another post 1822 incarnation.
One further curiosity on the bridge is a black on white and well cared for sign which gives warning to traction engines and other heavy vehicles.
'COUNTY OF MIDDLESEX / TAKE NOTICE that this Bridge / which is a County Bridge is insufficient to carry / weights beyond the ordinary traffic of the / District and that the owners and persons in / charge of LOCOMOTIVE TRACTION ENGINES / and heavily laden CARRIAGES are warned / against using the Bridge for the passage of / any such Engines or Carriages / Richd. Nicholson / Clerk of the Peace.'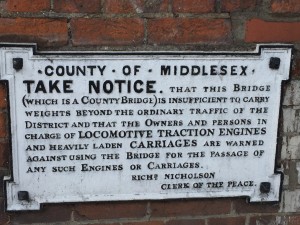 The reference to traction engines dates it to the last part of the 19th century or the beginning of the 20th, though traction engines were a common sight well into the post war years. My personal guess is that this sign is from before the first world war, when the building boom in Palmers Green began in earnest. There must have been a huge weight of traffic as the builders brought in  materials from all over London and the south east (though much clay was actually extracted locally).
I have written to the National Traction Engine Trust, but so far no reply.  I will get in touch with Enfield Local Archives to see if they know more about Richard Nicholson.
This article has been prepared as part of the process to nominate buildings and landmarks to Enfield's updated local list. For more information see http://www.palmersgreenn13.com/2015/09/11/every-street-in-palmers-green/. And if you have any suggestions for buildings which aren't listed but should be included in the local list, please get in touch.