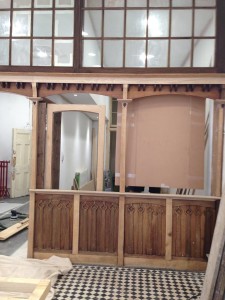 A couple of years ago Tony Ourris of Anthony Webb took over premises on the corner of Alderman's Hill and Lakeside Road which had previously been occupied for many years by Paterson's.
Tony loves old things, and he and his contractors stripped away the old paint and fittings to reveal the original tiled floor and rich dark Edwardian paneling, both of which were restored to things of absolute beauty.
A year or two later, and Anthony Webb has moved out now to concentrate operations in the main Green Lanes office and the shop is to become a new art focused café.  This afternoon, the original carved panels and glass inside had all been taken down. There are all manner of bags and planks of wood and I can't help wondering if the floor is to be taken up or covered over too.
You can have a café anywhere (in fact, there is one right next door) but a beautiful interior like that was a rarity. Art, which is what this new café promises to be about, implies an appreciation of beauty. I hope that the new occupants will appreciate what is there as much as Tony did.
I just wish I had taken more photos.