Palmers Green Jewel in the North was never intended just to be a blog, but a growing encyclopedia of all that is PG. This summer, I am blogging some of the pages that you might not have noticed, with tales of the old, quirky and the unusual. Here's the first, about the Dog and Duck….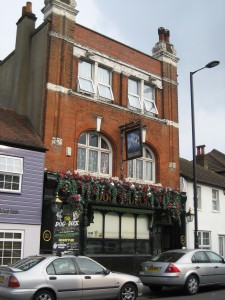 Technically just within the boundary of Winchmore Hill, the Dog and Duck gave its name to Bourne Hill's previous incarnation, Dog and Duck Lane. Like the Woodman, it was originally two cottages, which in the eighteenth century gained a licence to sell ale.
In 1869, according to Gary Boudier in his great A-Z of Enfield Pubs, the Dog was the scene of an accidental shooting when the landlord John Downes caused the death of his lodger John Flaxman by shooting him in the head. The two, according to the landlord's mother, had been about to go out shooting, but as Downes left the tap room with Flaxman walking ahead of him, the door closed, catching the hammer of the gun and causing it to go off.  Part of Flaxman's head was shot away, though he lived for an hour after the accident. A verdict of accidental death was returned, through Downes was admonished by the magistrate for being careless where guns were concerned.