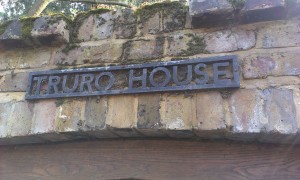 Truro House was posted up on Rightmove on Friday, for a cool £2.9 million.
But let's hope the pictures are from one of the other units to be built…
The building, which is Grade 2 listed,  is described as 'refined glamour, with a French twist':
Step through the iron gates of this secluded, private gated development and discover an enticing mix of old and new, where a wealth of original features meets the latest in security technology, and where over two acres of mature gardens and lawns meet a coveted parking space. Thoughtfully restored, today's Truro Place is a thoroughly modern address that exists in perfect harmony with its heritage and surrounds, and the grand buildings that have stood here for 150 years. After decades in the wilderness, this unique property is once again a joy to discover.
But the pictures appear to show an ultra modern, squeaky clean, marble floored, modern generically furnished space pad with no pictures of original features at all apart from outside. You can see them here.
But you will be relieved to find that we Palmers Greeners have at least finally discovered our inner hipster:
The joy of space meets the thrill of the city. Leafy Palmers green enjoys the very best of laid-back North London living
Enfield Council gave permission for works to go ahead last year, with a number of conditions to retain the building's historic character.  Last month, the stable block, which was originally to be retained, was demolished with agreement from Enfield Council, due to its poor condition.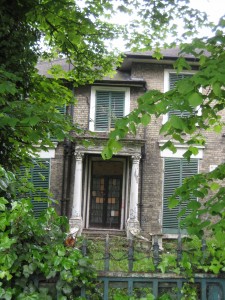 In 2002 a team from English Heritage investigated the history of the house and gardens. Inside was: a sitting hall; a panelled drawing room with hidden drawers and cupboards; stained glass with chivalric motifs and mottos; a rare early use of concrete mouldings; a 'near-unaltered scheme of interior decoration of the late nineteenth and early twentieth century' including a Toile de Jouy wall in the north west bedroom; and outside, gardens which had changed little since the house was built.
The most exciting discovery was that "elements of timber framing and brick noggin, more commonly associated with eighteenth century form of construction', had been exposed in the upper floor landing and in the cellar" which may have been part of the old Kings Arms structure from its last rebuilding in 1775. So parts of Truro House were nearly 250 years old.
The overall conclusion: Truro House is a building from the 1830s, built in an uncluttered 'old French' style, enlarged and remodelled in the 1890s, and modernised in the early part of the twentieth century, since when it has been largely untouched. The interior, say English Heritage, is "a rare and important survival, worthy of further study."
I hope it still is.
By the way, if you want it, mortgage repayments will be between £12,000 and £17,000 a month.