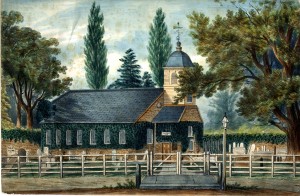 Christ Church Southgate celebrates its 400th birthday this year.
The Weld Chapel was founded in May 1615 and was the first church in this area. Before that, churchgoers had to cross woods and fields to make their way to Edmonton.
Christ Church has set up a wonderful 400th year section on their website and Facebook pages in which they are exploring the history of Southgate, Bowes Park and Palmers Green as seen from the memorials and art in the church. If you haven't set foot in the church, its a treasure trove of art and history.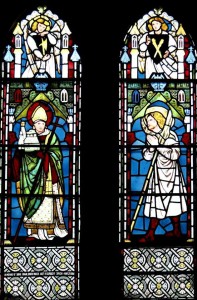 This week saw the church celebrating the feast day of the poet Christina Rossetti, perhaps best known for writing the carol In The Bleak Midwinter. Her brother, Dante Gabriel Rossetti designed the beautiful windows of St James and St Jude, in Christ Church's Remembrance Chapel. Installed when the church was consecrated, the windows are dedicated to Captain Timothy Smith and his wife Sarah.
Captain Smith was commander of HCS London, an East India Company vessel. He lived with his wife in a large house in Southgate called "The Wilderness", which was later demolished and became the site of Southgate College. Captain Smith sailed to Madras (now Chennai) and China. We know from archive reports in The Spectator of 1833 that HCS London ran into difficulties returning from China, encountering a sudden gale near the Azores, on 31st March, cutting away her topgallant-masts, arriving in the Port of London on 9th April. Captain Smith resigned as Commander of HCS London in 1834 and the team at the church are hoping to find a portrait of Captain Smith or HCS London – if you know of one please let them know! Captain Smith and his wife Sarah are buried in a vault in the churchyard.
The church holds its 400th anniversary service on 24 May, and on 20 May Ruby Galili of Edmonton Hundred Historical Society will be giving a lecture on the history of the Weld Chapel, admission a very reasonable £1.
The church and churchyard will be open for tours throughout the May Day Fair, on Monday 4th May 11am-4pm. Its a great event – do go along.
For more about the celebrations, and the history of the area as told through the church, visit http://www.christchurch-southgate.org/history or 'like' their Facebook page https://www.facebook.com/christchurchsouthgate/
With our thanks to Christ Church Southgate for the information contained in this article