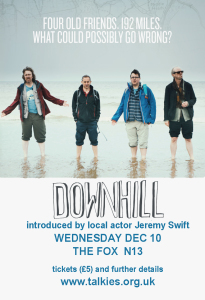 The final film this year from Talkies Community Cinema is Downhill, the story of four  school friends who reunite for a walking holiday as they come to terms with the joys and disappointments of middle age.
Shot in double-quick time in documentary format, Downhill follows the four as they drag themselves 192 miles along Wainwright's Coast to Coast Walk from St Bees in Cumbria to Robin Hood's Bay in North Yorkshire. The film was put together on a micro budget, and was filmed over three weeks in various locations along the path, including in pubs where no one knew there was a film being made and acted scenes took place among the hustle and bustle of the regulars.
The film will be followed by a Q&A with co-star and Palmers Greener Jeremy Swift, currently on our screens as Mr Spratt, Maggie Smith's snobby butler in Downton.
Downhill is being shown on 10 December at the Fox.
And if you havent booked yet, there are still a few tickets for The Muppet Christmas Carol at Christchurch Southgate on Saturday, and for World War One drama Joyeux Noel at the Dugdale Centre on 4 December.
To book, visit http://www.talkies.org.uk/