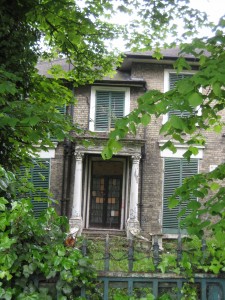 News comes this week via the ever hardworking Palmers Green Community website that planning permission has finally been granted for Truro House and grounds. This comes  after a long hiatus in which no one seemed to know what was happening, and Palmers Green residents watched in dismay as the building became more and more neglected and surrounded in mystery.
Apparently Truro House is to be saved and restored as a single dwelling and the old coach house will also become a single dwelling. Two blocks of flats will be built, one of two stories and the other of 3 and 4 at various points. There will be lower ground floor and roof level accommodation in the new buildings.
I have not been able to establish whether the formal grounds on the Green Lanes side of the building will be retained – there is a frightening number of documents on Enfield Council's website – but one of the drawings from 2009 indicates that the intention may be that they could be retained.
Coincidentally, my favourite message in my inbox this week was from the creator of the  Finchley website Greenacre Times' creator Lindsay Barnfield, who told us about the time she visited Truro House and met the legendary Miss Davie, whose family occupied the building for one hundred years. Incidentally, I wrote a complete article on the history of Truro back in January, but forgot to post it, so stand by for that shortly.
Lindsay says
Like many others, I found Truro House fascinating when I passed y on the bus. I have always liked doors in walls. So you can imagine how pleased I was to being going through that door when I had reason to visit Miss Davies.

This was in 1990 when she was 92. I was greeted by her housekeeper and led in through a kitchen that dated from the early part of the (last) century complete with range, then through another kitchen with more modern appliances then in to the main hall. This was a room in itself, with a grand fireplace. At the top of the stairs there hung a beautiful full length portrait of a gowned Miss Davies, dating I should imagine, around 1920.

She held court in a vast room, that acted as a sitting room and bedroom on the first floor overlooking the garden. There was a fascinating little staircase that led up out of the room – how I wanted to explore! Opposite Miss Davies' room was another grand panelled room, barely used, looking as if little had changed during Miss Davies' lifetime (apart from electricity!). How I would have loved a guided tour! She told me she has lived in the house her entire life.

I always felt that this should have been left as a museum – as Miss Davies had no children to inherit her amazing home.
For more information on the plans for the house which have now received conditional approval from Enfield Council, click here.