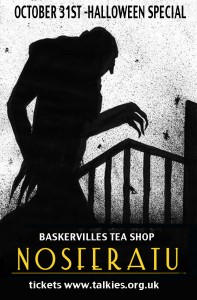 Think Baskervilles and thoughts may turn to the comfort of their excellent poached egg brunch or a slice of cake sitting in a sunny window. But on 31 October, it takes a turn for the supernatural.
Talkies Community Cinema will be screening the legendary Nosferatu, and inviting attendees to dress up suitably for the occasion.
The film, shot in 1921 and released in 1922, was an unauthorized adaptation of Bram Stoker's Dracula, with names and other details changed because the studio could not obtain the rights to the novel (for instance, "vampire" became "Nosferatu" and "Count Dracula" became "Count Orlok"). Stoker's heirs sued over the adaptation, and a court ruling ordered that all copies of the film be destroyed. However, one print of Nosferatu survived, and the film came to be regarded as an influential masterpiece of cinema. It's certainly like nothing you have ever seen before, and the early cinematography only adds to the atmosphere.
That isnt the end of the mystery surrounding the film however. There were rumours that Max Schreck made such a good vampire in the film because – he was one! The idea is persued entertainingly in the 2000 film Shadow of the Vampire, which you might want to check out afterwards if you havent seen it already.
If that isnt enough to set you tingling, the film is preceded on Saturday 18 October with another chilling tale at a new venue for Talkies, Christ Church Southgate, where there will be a candle lit screening of 1925's silent film, Phantom of the Opera, accompanied throughout by live organ music from David Hinnit and Adam Dickson, organists at the church.
Tickets are £5 from Annita's Cafe at Palmers Green station, or £5 plus booking fee if online.   More information from http://www.talkies.org.uk/