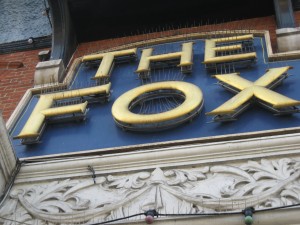 I have been hearing rumours about this for some time, but this week confirmation comes via the Fox Lane and District Residents Association's weekly bulletin that The Fox has been sold to developers – apparently the same company that recently bought Winchmore Hill police station.
Though the current building dates from 1904, there has been a Fox on the site  for several centuries. Palmers Green's horse drawn buses once ran into central London from the Fox Hotel, as it once was. Geno Washington once played there. There have been theatre productions, celebrity drinkers, a ghost, a comedy club, and community cinema. And of course, it gave its name to Fox Lane.
The attraction for developers is fairly obvious – a huge plot of land, centrally located. But the loss to us of a  major Palmers Green landmark and amenity is beyond  calculation.
Is this really the end for The Fox, and what does it mean for Palmers Green?