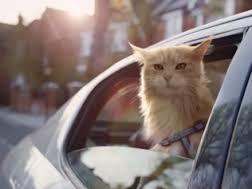 Is it my imagination, or does the setting for O2's "Be more dog" advert look strangely familiar…?
In the ad, O2's aloof and jaded moggy decides to make life more exciting by embracing his 'inner dog', jumping into Broomfield Park's boating lake after sticks and running with a pack of dogs around the park.
PG's houses and the view of Canary Wharf from the top of Alderman's Hill are clearly visible…In another scene, he chases a car through PG's streets.
Watch the whole ad here: http://youtu.be/iMzgl0nFj3s
[youtube]http://youtu.be/iMzgl0nFj3s[/youtube]