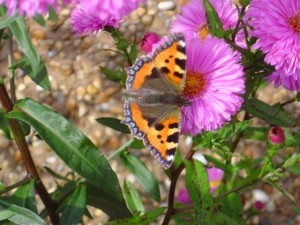 Is it my imagination, or are there a few more butterflies this year – but less variety? This afternoon I had my first sighting of a peacock butterfly on a Buddleia in Old Park Road. They are the ones with the circles on the wings. Intrigued, it seemed like the perfect afternoon to take part in the Big Butterfly Count.
If you want to have a go, it's very simple: choose a sunny day, like today, sit yourself outside for 15 minutes, and count the largest number of butterflies you see simultaneously of each type. You can be anywhere – in the park, in your garden, on holiday in the UK.
If you are out for a walk the rules are slightly different – just count what you see rather than the largest number of a each type present at the same time (its to avoid double counting if you are in one place –  but that shouldnt be a problem if you are on the move). You can even submit more than once if you like, and there is a downloadable app so that you can even do it on your phone.
Counting butterflies is a useful way of assessing the health of our environment, say organisers Butterfly Conservation. Butterflies react very quickly to changes in the environment, which means that they are a good indicator of biodiversity, and an early warning of other potential losses – a way of taking the pulse of nature. The count also provides valuable information on population trends and where action needs to be taken.
If you don't know a butterfly from a bootstrap, there is a handy downloadable chart here. Log your results at  https://www.bigbutterflycount.org/species. And why not share them with your neighbours via this site by leaving a reply at the bottom of this article?
Here were my results:
Small white: 3
Gatekeeper: 2