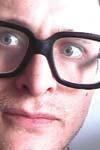 Comedy genius Simon Munnery returns to Palmers Green for a one-off gig at Gary Colman's Electric Mouse Comedy Club at the Fox next Friday.
Renowned for this off beat originality, Munnery won the 2012 Chortle awards for Best Comedy Innovation for his show La Concepta which he opened a non dining restaurant for eight non diners at a time, presenting 'haute cuisine without the shame of eating'. In his most recent show, The Fylm-Makker, Munnery didn't appear on stage at all, instead sitting in the audience behind a box of tricks that could only display his face, the table or both. From there he made live films – or Fylms – which were projected on a big screen at the front of the theatre.
Also on the bill are Junior Simpson and Nick Doody, and the event is compared by Gary Colman. You can reserve tickets to pick up on the door by emailing gary@electricmousecomedy.com. Doors open 7.30pm.