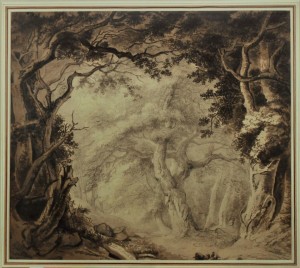 Enfield Council is to display a rare pencil drawing by John Constable as part of a new exhibition opening on Saturday.
Enfield Life, at the Dugdale Centre, is a permanent local exhibition about Enfield's history  and will tell the chronological story of people who have lived or worked in the area or shaped its development through a mix of objects, pictures and room sets. Alongside will be an exhibition called People and Places which will include paintings, drawings, photographs and prints featuring places in the borough and people who are linked to the locality.
Though from Suffolk and most famous for his paintings around Dedham Vale, John Constable (1776-1837) had some family connections with the area.  We know from his letters that in at the age of 20, in 1796, he stayed at the house of his uncle Thomas Allen, who lived in Church Street Edmonton. This is also possibly when he met painter, engraver and antiquary John Thomas Smith aka Antiquity Smith (1766 to 1833). Smith apparently gave him advice about his career on the lines of 'dont give up the day job' (more about Smith, his Life of Nollekins, and his connections with the area coming soon).
The new exhibition will be open daily from 10.00am to 5.00pm Mon-Sat and 10.00am to 1.00pm on Sundays.
More information
http://www.enfield.gov.uk/news/article/653/rare_constable_drawing_back_on_display