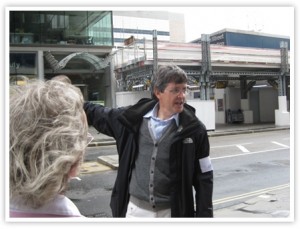 There's nothing like a spooky tale or two at Christmas, and Joe Studman will have a few to tell on his Darker Side of Winchmore Hill walk on Saturday 22 December, including stories of old railway workers, black dogs and sinister doings in the woods.
The walk starts from Winchmore Hill Station at 7.30. Tickets are £5 a head from Hunter's newsagents on Winchmore Hill Green, or direct from Joe on the night.
But two lucky winners can go along free by answering this simple question:
By what name is Elizabeth Sawyer, who was born in Winchmore Hill in the seventeenth century, better known?
As ever, the answer could be on this website. Entries by 5 pm on Wednesday 19 December to palmersgreenn13@btinternet.com